ACOUSTIC PU FOAMS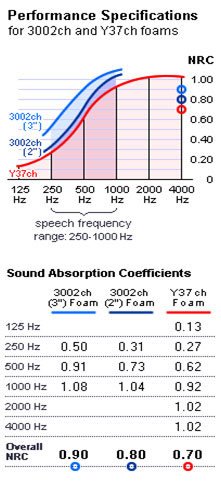 We manufacture
acoustic PU foams
to provide sound attenuation. The open celled foam is very effective in absorbing sound and reducing reverberation in commercial locations. PU foam is the most effective material for absorption of airborne sound.
This foam is light in weight and can be placed on the floor, ceiling or walls of the room for eradicating resonance. It is fibre free and easy to install. The polyurethane foam is also fire retardant and can easily be attached to another surface.
Acoustic PU Foam improves the quality and clarity of sound by removing any residual sound in the room. It is typically used in concert halls, auditoriums, performance theatres. It is also effective in improving the clarity and quality of speech. PU foam is used in many commercial establishments including offices and board meeting rooms. It comes in varying sizes, colours and thicknesses.
We manufacture a variety of different polyurethane foam that has varying properties and applications.
ACOUSTIC WEDGE FOAM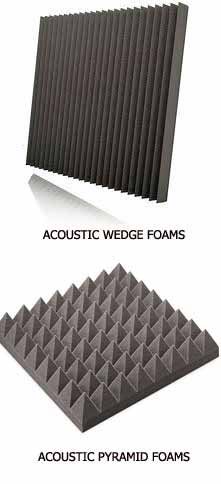 The acoustic wedge foam is designed as long rows of wedges on the sheet. The acoustic wedge foam sheet comes in different sizes and can be further cut if required. It is highly effective for soundproofing mid to high range sound frequencies. The thickness of the foam can be selected based on the noise level control required.
Acoustic Pyramid FOAM
The acoustic pyramid foam is better at diffusing sound. The interlacing of air spaces with the foam and the 4 side opening provides better noise attenuation. Pyramid foam is suitable for creating sound proof rooms like recording studios. It has among the highest noise reduction coefficient for a surface.