ACOUSTIC CUM FIRE METAL DOOR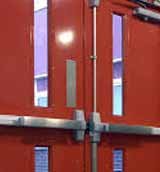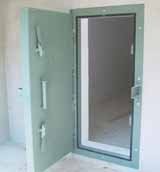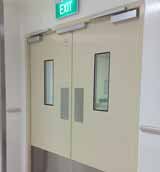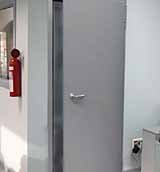 Envirotech System Pvt. Ltd is counted among the successful Manufacturers and Suppliers of Sound Proof Fire Steel Doors. The Doors offered by us are manufactured in steel, single or double leaf, horizontal or vertical sliding.
Supplying steel Acoustic Door with Infilled Material is Fire Rating of 120 minutes rating as per specification in accordance with IS 3614 Part-2 BS 476 Part-22. Door Frame are made with 1.6 mm thick galvanized steel sheet pressed to single rebate profile of size 125 x 60mm.
Door Shutter are made with 1.2 mm thick galvanized steel sheet pressed formed to provide a 46mm thick fully flush double skin panel shall with lock seam joint at style edges. And filled with Rock wool (96 kg/cum density ) sandwich along with honey comb structure with reinforcement at top, bottom and stile surround. The items also include provision for required iron monger and finished with zinc phosphate storing primer & powder coating.
ACOUSTIC CUM WOODEN DOOR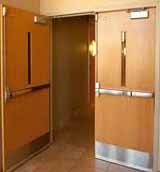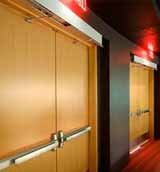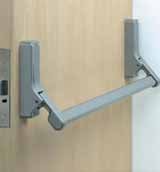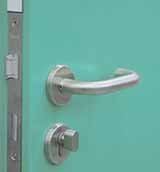 Providing and fixing of ENVIROTECH Make , ENVIRO-WD-1, Doors is one of the best Products to Control Noise and Fulfilling a Demand of a great way in the field of Noise Reduction.
DOOR FRAME: -
Door frame made out of good quality hardwood , section size – 145 mm x 110 mm fitted with 'D' type rubber gasket to block noise leakage from gap .
DOOR SHUTTER: -
(1.)
83 mm thick made from Superior quality ply & wooden batten , processed with environmentally, Friendly adhesive with Advanced Technology and Modern Techniques.
(2.)
This Composite is generally made of 12 mm thick Non Combustions board at both side and 45 mm thick noise absorbing and dampening material filled in between both the ply Acoustic Material having a high Physical. Mechanical, Chemical Properties and stability. Total thickness of door shutter will be 85 mm.
(3.)
3 mm sheet rubber interlayer and finished 01mm mica laminate shall be bonded with 12 mm thick Non Combustions board on both face of shutter by using high strength cross linked PVAC based adhesive 'Korlok 472' of National or "Fevicol SWR" of Pidilite industries ltd as per manufacturer's specifications.
(4.)
The frame of shutter shall be made from 45 mm thick hard wood stiles and top & bottom rails of size 94 mm and core made of lock rail 100 mm wide and 50 mm thick and three additional strips 50 mm wide and 25 mm thick (minimum).
(5.)
The core of door shutter shall be filled with resin bonded glass wool conforming to IS:8193/ relevant International Standards (Twiga Insul -4000/50 mm or equivalent) of a minimum density of 48 kg/m3 50 mm thick .
(6.)
Two no bulb type EPDM rubber gasket of size 20mmx20mm shall be fixed at the bottom edge of door shutter to control noise leakage from gap.
(7.)
The door assembly shall be fixed to the door frame with heavy duty hardware i.e. SS Hinge Size: 4"x 3"x 3mm , 300 mm SS door handle , SS Tower bolt and Mortise door lock .
Visit Our Main Website
Download Catalouge