Engine Exhaust Silencers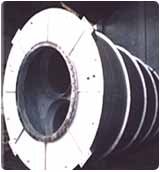 Some engines mainly generate noise from their exhaust outlet. In this case fitting the engine exhaust with a silencer will help in controlling the high noise level. Industrial Noise control is an area of concern and government regulations are very strict about the noise pollution.
There are two types of engine exhaust silencerswhich are as follows:
Absorptive type silencer: The absorptive engine silencer has sound control levels between 15dB(A) to 25dB(A) (type SM15P and SM25P)
Reactive type silencer: The reactive and wave phase shift has a noise control level of 30dB(A) to 50dB(A) (type SM30P, SM40P, SM50P)
The silencers can be installed with catalysts or SCR systems if required by the client. The silencers are usually cylindrical in shape with a circular or oval opening. They are made of a variety of materials which depends to a large extent on the application.
Key characteristics of IAC Engine Exhaust Silencers
Our exhaust silencers have the following key characteristics and attributes :
Specific applications: co-generation, containers, marine, rail, generation unit (backup, primary, no break)
Circular, rectangular, or oval design
Diverse material types to suit application
Radial or axial intakes
To satisfy the current environmental requirement, all silencers can be supplied with catalysts or selective catalytic reduction (SCR) systems
Industrial Fan Silencers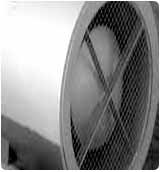 The air fan in a machine is the primary part that generates noise. The noise passed through the draft requires
acoustic treatment
to meet the industrial noise regulation standards. The standard requirement is 90 dB(A) to avoid hearing impairment. 80dB(A) or less is the desired level.
To reduce the level of noise the fan is fitted with an industrial fan silencer.We offer a total solution for a range of machinery including turbines. Our
industrial fan silencers
are customised to provide the required solution from any air moving equipment. We use a computer enhanced technology which allows us to provide precise silencers at a competitive cost.
The features of our silencers include octave band filters and pressure drop. The specifications of the silencer depend on the equipment of application.
AIRINTAKE & DISCHARGE SILENCERS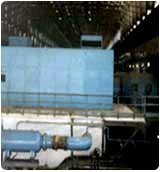 Machine rooms or
acoustic enclosures
that need good air circulation with plenty of fresh air need openings that can provide the needful. The openings are specially designed with inlet and outlet silencers which have FD fan and ID Fan for their two way performance. These silencers muffle the noise and help in maintaining the environment noise pollution norms. Power generation equipment needs to have noise control measures in place to deal with the noise pollution.
Our turnkey solutions using
air intake and discharge silencers
for industrial machines are very effective especially for diesel generators, gas turbines, compressors, combined heat and power systems.
The noise reduction capabilities of the air intake and discharge silencer is from 10 dB(A) to 50dB(A). The design of the silencer can be rectangular or circular depending on the area of application. We also make specific designs for low frequency noise control.
Applications of Air Intake and Discharge Silencers
We has extensive experience and technical knowledge of air intake and discharge silencers for all types of applications and designs that include :
Intake and discharge silencers for cooling and combustion air requirements
Smoke and fire extract systems
Noise reduction capability from 10dB(A) to 50dB(A)+
Rectangular or circular design
Special designs for low frequencies noise control e.g. diesel generators
Wide range of noise reduction with minimal pressure loss
Large thickness panels to ensure low frequencies attenuation.
VENT SILENCERS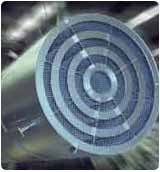 Vent silencers are used in a number of applications. One typical area of use is to control the noise for systems that release pressurised gases. Air vents of acoustic enclosuressuch as steam boilers or heat recovery systems use a pressure relief valve which tends to make a very loud noise when the pressure valve is opened to release the pressures. A vent silencer is very effective in muffling the sound which usually is a shill high pitched noise.
Gas turbines would require a vent silencer fitted at the pressure release valve to reduce the sound created by the release of high velocity air. The silencer is made of heavy gauge perforated sheets and has a diffuser at the inlet nozzle. The vent silencer has tolerance for high temperature and is built with optimal space consideration.