Acoustic Enclosure For Power Plant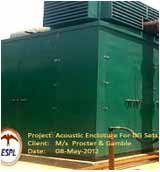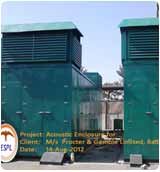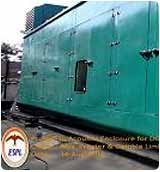 We manufacture
acoustic enclosures
that are specially designed for power plant and keep the noise emission to the permissible level. Industrial Acoustics has to be kept under a certain level especially in manufacturing units that have a high level noise emission. The areas of application of our acoustic enclosure are varied and it covers the requirements of many industries like cement plant, steel plant, oil and gas plant, forging industries among many others.
We make a complete structural design of the acoustic enclosure with engineering support for the layout. The specifications of these acoustic enclosures include criteria such as proper ventilation and air circulation to ensure optimal performance of the power plant.
The louvers used for ventilation are acoustically treated. For all enclosures especially those housing heavy duty equipment it is necessary to provide sufficient ventilation for air circulation. This is an important criterionso as to not affect the performance of the power plant.Machines like power plants work best in an open environment but due to environmental noise restrictions they need to be encased in acoustic enclosures.
The
Acoustic Enclosure
for
Power Plant
has
acoustic doors
and windows to maintain the
industrial acoustics
levels. The enclosure has proper air vents with acoustically treated louvers for the inlets and exhaust outlets. We understand our client's requirements and cater to all the necessary specification for the power plant enclosure.
FEATURES INCLUDE:
Noise reductions according to CPCB Norms /as per ISO 14001 requirement for industrial applications.
Controlled environment for temperature, humidity, cleanliness, and vibration isolation
Hinge type door of required size, doors are fitted with Gasket to block noise leakage from gap.
Spring loaded lock, open able from both sides
Rain water protection hood to corner for fresh air inlet acoustic louvers
Electrical wiring, switch board & light to maintain 300 LUX inside the enclosure
All Hardwares were Zinc passivated to avoid rusting & door hinges are SS
Provided cutouts in acoustic panel for pipe / cable entry or any other requirement
Two coat primer & automotive paint in desired shade
Acoustically treated louvers on roof of Acoustic Enclosure for air inlet & exhaust.
ACCESSORIES:
We provide sufficient no. of acoustic doors For maintenance access equipped with heavy duty hardware and seals to prevent noise leakage.


Acoustic glass windows/vision panels are double or single glazed, 1/4″ thick, laminated safety glass or wire reinforced including framing and sealing.Removable Panels for constant or intermittent access to equipment can be incorporated in acoustic enclosure design.


Every Project includes piece-marked assembly drawings & AutoCAD submittal.
DOWNLOAD PROJECT
DIESEL GENERATOR ROOM ACOUSTIC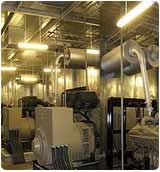 The recent awareness on sound pollution has led to the increase of acoustic enclosures for all heavy machinery that emits high levels of noise. Diesel generators fall into this category. Envirotech Systems designs
DG Generator Rooms
with
room acoustics
ensuring that the sound does not carry out beyond the room. These rooms are scientifically designed for even sound absorption and proportionate reverberation time.
Diesel Generator Room Acoustic in Noida
is designed in accordance to the required statutory norms. The enclosure has lining along the walls and ceiling to absorb the excessive sound. It is a controlled environment and the door also has a gasket seal to prevent the leakage of sound. It is mandatory for the room to have proper air ventilation for maximum cooling and aspiration. The vent needs to be outfitted with an axial flow fan. The air ducts are insulated and outfitted with a splitter and acoustic louvers.
The
DG set enclosure
can be custom made according to the dimension specification required by the client. The panels are removable for easy installation and servicing of the DG set. The enclosure is also fitted with fire fighting equipment in case of an emergency. The enclosure itself is made of fire retardant material. There is an electrical connection inside the enclosure to ensure sufficient lighting. The vision panels or windows for the DG set enclosure is optional.
Get More information