ACOUSTIC METAL DOOR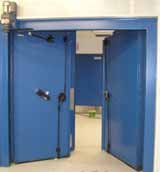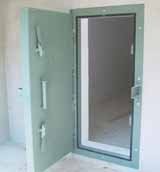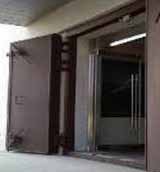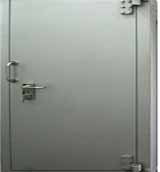 Envirotech System Pvt. Ltd is counted among the successful Manufacturers and Suppliers of Sound Proof Metal door. The metal Doors offered by us are manufactured in steel, single or double leaf, horizontal or vertical sliding. These provide excellent noise suppression in new build or refurbishment projects.
ACOUSTIC DOOR :-
Providing ENVIROTECH MAKE Steel Acoustic doors of required size , Single/double leaves door comprising of MS pipe frame Size: 100 x 50 , the hollow portion of pipe filled with Rock wool to block noise transmission . The door leaf shutters outer sheet made out of 1.6 mm thick plain CRCA sheet & inner GI perforated 1.2 mm thick Door shutter thickness shall be 85 mm , filled with acoustic insulation material of Rock wool of 64kg/m 3 density and one sound dampening layer of 3.5 mm thickness. The neoprene rubber gasket provided in between frame and shutter to fill gaps in between shutter and frame.
STC RATING :-
construction of door shutter will be as per test conducted from National Physical Laboratory for f - The STC (Sound Transmission Coefficient) rating of door shutter will be 44 STC. The airborne sound as per IS-9901(Part III) – 1981, DIN 52210 part IV – 1984, ISO: 140 (Part III) – 1995. The STC rating
HARDWARE :-
SS Door Handle 300mm long, 300mm long SS Tower bolt, Pressure lock to close door tightly.
VISION PANNEL :-
Door fitted with sound proof glass vision panel of required size each leaf , sound proof glass made out of 06 mm , 02 no toughened glass with 12 mm gap in between both glass , gap filled with Argon gas and sealed with silicon sealing.
Visit Our Main Website
ACOUSTIC WOODEN DOORS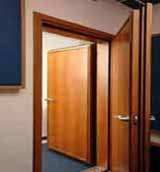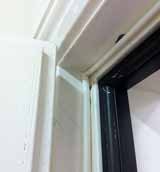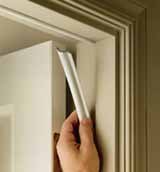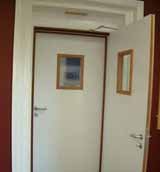 The maximum sound enters and escapes a room through the door. The ordinary doors we have in our residences are made of regular material that has minimal sound reflective and absorption properties. The gaps around the door also allow sound to easily pass through. Our acoustic wooden doors are specially designed for homes to provide total privacy in bedrooms and bathrooms as well as other rooms such as studies and home offices.
These acoustic wooden doors provide a high level of sound reduction and are available in a number of different finishes to match the interiors of the house. These doors come as complete units with their own mounting frames. This ensures the doors fit correctly and no gaps are left for noise leakage.
Size:
The acoustic wooden doors are high performance and can be manufactured as per specification with any size or shape. We also have standard door sizes that are readily available with us.
Material:
The acoustic wooden door leaf is made of a hard wood exterior with rubber stripping in the recesses and the sides. It is designed as a sandwich panels for better acoustic performance. The hardwood on either side is 2.5 mm thick and made of a high pressure laminate. This could also comprise of marine plywood or MDF board. The door is then laminated with a variety of veneer to give it a good finish.The sandwich design of the door leaf ensures a good sound absorption.The acoustic door offers a STCrating up to 56 and is a cost effective option for sound attenuation.
Features of acoustic wooden door:
Has a 3 point latching system
Heavy duty hinges to ensure the door is not weighed down
The door jambs have seals to ensure that they are soundproof.
Automatic sill
The exterior of the door can be designed to suit the décor of the room. There is a large choice of laminates for selection as per the client's taste.
Visit Our Main Website
Download Catalouge