Polycarbonate / PMMA Noise Barrier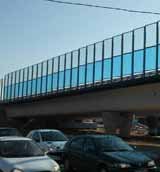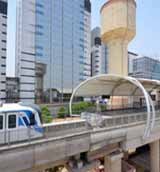 Polycarbonate is the most effective material for noise absorption and helps to ensure a quiet atmosphere. Polycarbonate as a material has superior properties which makes it a preferred material as a noise control barrier. Acrylic also has similar properties to polycarbonate and the two are equated at many junctions.
The light weight of the material makes it possible to install polycarbonate sound barrier in almost any kind of situation. It is also very appropriate for mounted structure application.
Light transmission:
Polycarbonate and acrylic has a 95% light transmission capability thus it does not darken enclosures. In many instances the passage of light is a deterrent as the entry of natural light especially in the open air surroundings are preferred. This is one reason why in many cases the polycarbonate / acrylic noise barriers are preferred over the metallic noise barriers.
Aesthetics:
An important factor that plays a vital role in choice of a barrier is the aesthetic appeal of the item. The Polycarbonate / acrylic noise barrier with their translucent appearance is aesthetically attractive. It can be procured in a choice of colours and this allows it to fit in perfectly with its surroundings. The barriers are available in a number of designs and finishes to improve the appearance of the locations.
Noise barriers are commonly used outdoors in situations where some neighbourhoods need protection against the high frequency sound disturbing their peace. This would include areas near airports, highways, and railway lines, industrial or manufacturing units or even from construction sites. Sound pollution is damaging the environment in a dangerous way and regulatory bodies have now enforced measures for the noise control. Industries and other noise generating plants are required to install sound attenuation devices to protect the surrounding environment.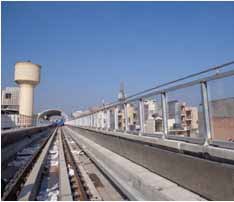 Features of Polycarbonate / Acrylic Noise Barrier
The polycarbonate / acrylic noise barriers are built to provide the best performance and some of the main features of the barriers are as follows:
Weight:
Light in weight makes it easy to handle and also easy to install. It can be placed in locations such as raised bridges and flyovers. It is also suitable for overhead rail lines and metro lines.
UV protected:
The polycarbonate noise barriers are coated with a UV protection on both sides to ensure that it is not affected by the UV rays since these structures are usually erected outdoors and required to withstand the continuous sun during all seasons.
Impact resistant:
The polycarbonate / acrylic sheets are very strong and impact resistant. It will not shatter with stone impact or any other impact either.
Weather resistant:
The polycarbonate / acrylic material is not affected by adverse weather conditions. It is also UV resistant and will not crack or break with strong sun.
Non corrosive:
The frames used for the noise barriers are galvanised and are non-corrosive. It will not rust or corrode. The material for the noise barrier sheets are also non corrosive.
Flexibility:
The polycarbonate / acrylic sheets are versatile and mouldable.
Light transmission:
The translucent materials provide good light transmission of up to 95%.
Noise reduction
: The acrylic / polycarbonate noise barrier are the most effective at sound reduction and can reduce sound up to 36 dB(A)
Fire resistant:
It has a Class B fire rating
SPECIFICATION OF NOISE BARRIER POLYCARBONATE SOLID SHEETS :-
Thickness :
8 mm
Color :
Clear transparent
Panel Width :
1220 mm
UV :
Both Sides co-extruded UV Coating
Light Transmittance :
84% for clear
Tensile Strength :
At least 60N/m2
Modulus of Elasticity :
At least 2000N/mm2
Fire Retardant :
As per EN 1794-2
Stone Impact Resistance :
As per EN 1794-1 Annex.C
Yellowing index shall be less than 10 as per ASTMD 1925 or equivalent
No mottling
Sound Insulation :
32dB
The above properties shall not vary by about 5-10% of the original values over a 10 – year period
Constituents :-
The polycarbonate noise barrier comprises of a metallic frames made of steel or aluminium. The supporting frame is galvanised to ensure that it is protected against weather. The noise barrier sheets are made either of polycarbonate material or acrylic sheets. These sheets are fitted into the groves of the metallic frame to ensure a perfect fit. To warrant a total noise protection the grooves are lined with rubber to prevent the leakage of sound.
Salient Features of Enviro Polycarbonate / Acrylic Sheet Noise barrier: :-
The polycarbonate / acrylic noise barriers are designed to be eco-friendly. It provides the required acoustic attenuation and is built to sustain in an outdoor environment. Outdoor properties: The noise barrier structure can withstand high velocity wind and air pressure changes. The structure is firmly fixed and will not give way in adverse weather conditions.

Safety: The noise barriers are totally safe from every aspect. The possibility of a mishap from the barrier structure is eliminated. The barriers are made from safe materials that are non-harmful to the atmosphere.

Noise blockage: The barriers are designed in a manner to provide a substantial noise blockage. The height of the barrier is calculated as per the sound attenuation requirement which takes into consideration the height of the source as well as the height of the area that needs noise protection.

Low maintenance: The noise barrier structure has been designed in manner that calls for little or no regular maintenance. The polycarbonate / acrylic sheets are maintenance free materials with a plain surface that does not allow dirt particles to settle on its smooth surface. If required the surface is easy to clean.

The noise barrier provides effective sound absorption and very little transmission loss. The gasket seals at the joints ensure that there is no sound leakage. The standards noise reduction level is 36 dB(A).
Installation of Polycarbonate / Acrylic Noise Barrier
We manufacture polycarbonate noise barriers as a total noise control solution. Our products are quality assured and of the highest standards. We will deliver the product and perform a complete installation. Our skilled team can do a quick and efficient installation of the barrier wall.
Technical Specification of Acrylic Sheet :-
Product Properties
Test Results
Test Method
Tensile Strength
min 70 MPa
ISO 527-2/1B/5
Elongation at break
5%
ISO 527-2/1B/5
Flexural Strength
min. 98 MPa
ISO 178
Elastic Modulus
min 3.300 MPa
ISO 527-2/1B/5
Density
1,19 g/cm³
ISO 1183
Thermal expansion coefficient 0…50 °C
70 x 10 -6 1/K
DIN 53752-A
Max. permanent service temperature
70 °C
Vicat softening temperature
102 °C / 110 °C
ISO 306 / B50
Light transmission of clear sheets
min. 90 %
DIN 5036
Weighted sound reduction index DLR
15 mm / 20 mm / 25 mm
30 / 32 / 33 dB
EN 1793-2 /
ZTV-LSW 06
Visit Our Main Website
Download Catalouge