MACHINE ENCLOSURES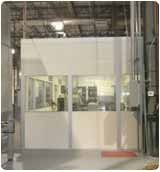 All machines that emit noise more than the permissible level need to be enclosed in an acoustic enclosure. There are environment protection industrial regulation regarding the noise level for machines and this is one of the main reasons for Machine enclosures with built-in acoustic control.
Machine enclosures are tailor made according to dimensions of the machine. An important factor to be taken into consideration is the location of the machine and its surroundings, which may give rise to weather proofing the exteriors. The
heavy machines enclosures
have certain features
such as:
Cut outs for pipes, wires and cables
Double glazed glass windows for light and visibility. This can be wire treated if required
Doors with gasket seal to prevent the leakage of noise
Air vents with louvers for ventilations that have acoustic treatment
Removable panels for repair and maintenance of the machine especially if the enclosure is small
The enclosure has a lighting level of 300 LUX which allows plenty of visibility inside the enclosure.
DOWNLOAD PROJECT
ACOUSTIC CONTAINERS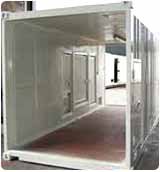 Acoustic containers are specially designed for particular
heavy industrial equipment
that emits higher level of noise. These containers help to muffle the sound and keep it within desired limits. These
acoustic containers
are scientifically designed and are specially treated with galvanised material for durability.These are fully certified units made for acoustic treatment of power generation equipment
Acoustic containers are used mainly for compressors and co-generation plants and which have high reverberation and sound resonance. These acoustic containers can also be used for diesel generators or other heavy machinery.
Acoustic Containers Specification
The level of noise reduction is from 25dB(A) to 50dB(A) and above
Silencer for gas exhaust outlet
Air inlet acoustically treated with silencer
Container is fire retardant
Temperature and humidity control inside
Gasket sealed sound proof door with special access hinges
Fitted with internal lighting and electrical connection
Removable panels if required
Windows with double glazed glass for visibility and external light
The containers are custom designed according to the specifications of the unit. The standard ISO acoustic containers are 20 feet cube, 30 feet cube and 40 feet cube containers. We have a short delivery period between 4-5 weeks, which is for a Standard ISO size container. A custom size container may take a little longer for delivery. Our acoustic containers are made of high quality material which makes it durable and robust.
Get More information