ACOUSTIC LOUVER & SOUND ATTENUATOR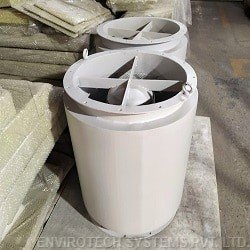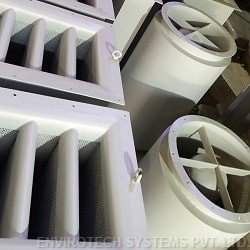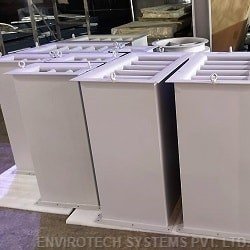 Acoustic louvers are used for sound attenuation in the openings of the acoustic enclosures. All enclosures require a certain number of openings as air inlets, exhaust or air outlets and in general for ventilation and weather control inside the enclosure. Maintaining a certain temperature and humidity level inside an enclosure is vital for optimal performance of the unit.
Envirotech is reputed as a manufacturer of high standard and quality
acoustic louvers
and
sound attenuators
. Our products are not only effective in providing sound control measures but are aesthetically pleasing as well. Our acoustic louvers have aerodynamically designed blades helping with noise control as well as control of weather variation. These louvers act as silencers for the openings in the acoustic enclosure and prevent noise leakage.
The acoustic louvers are usually made of high quality aluminium or galvanised steel for its tensile strength and durability with a thickness of 300mm or 600mm. They are also resistant to adverse conditions such as weather, heat and cold. The acoustic louvers are specially designed to withstand pressure drop and water ingress without hindering air flow. The fibre glass insulation of the louvers helps to absorb sound.
The standard dimensions of acoustic louvers are :
Heights : 450 mm / 650 mm / 850 mm / 1050 mm
Width : 600 mm / 800 mm / 1000 mm / 1200 mm
Others sizes can be made as per required specifications
We offer the acoustic Louver with following features:
Flat blades with good finish and aerodynamic design for energy saving
Choice of colours
Flexible design options
Custom material selection
Acoustic accentuation across all bands
Easy installation
Lab tested for performance
Air inlets and outlets are a necessity for all enclosures. Acoustic enclosures for machines in particular need the air vents to be acoustically treated and this is where acoustic louvers are necessary to control the noise.
Proven Acoustic Performance
All products are lab tested and rated
Published data gives important air flow and self noise details
Energy Saving
Aerodynamic design
Low Pressure-drop characteristics
Machinery Enclosures and Plenums
Complete plant/machinery enclosures
Any size, shape or specification
Using modular, high performance acoustic panel system
Matching access doors/hatches
ACOUSTIC LOUVERED SCREENS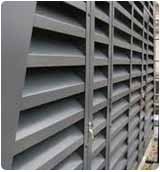 Louvered screens are commonly used to cordon off areas with industrial plants or large machinery. With environmental concerns and the industrial noise pollution regulations these areas need an acoustic solution.
Acoustic louvered screens
are typically used in areas where the plant is very large and cannot be encapsulated in an
acoustic container
, such as an air conditioning plant. The acoustic louvers are put up around the plant for environment sound control.
Features of the acoustic louvered screens
Durable and strong: The louvered screens are highly durable and resistant to high amounts of pressure.
Easy maintenance: it requires very little maintenance and can easily be cleaned by washing it down. The shape and design prevents it from accumulating much dirt.
Fire retardant: The acoustic louvered screens are non-combustible.
Termite resistant: The louvered screens are made of material that is termite resistant.
Thermal efficiency: All the louvered screens we make are insulated. The density of the insulation varies as per requirement.
Sound proof: The louvered screens are acoustically treated to ensure that they do not allow the sound to go though. The louvers are fitted with sound absorbing material.
Delivery
Standard sized louvered screens can be delivered within 4-5 weeks. The delivery for custom sized louvered screens will depend on the order.
Installation
The acoustic louvered screens are easy and quick to install. Our set-up team can have yourunit installed and ready for use in a short time frame.