ACOUSTIC BAFFLES
Acoustic Baffles
Sound attenuation is necessary to protect the environment. To control sound in a large open area we have Acoustic baffles. These can be used for outdoor functions where there is loud music or a lot of high volume sound. We manufacture acoustic baffles that have a capability of high sound absorption. The coefficient of our sound baffles range from NCR .75 to NCR 1.15.
Acoustic baffles are precision engineered and can be used to reduce echo or improve the room acoustics in a large hall or auditorium during concerts or performances. We have two types:
Acoustical baffles which hang vertically from the ceiling
Acoustical banners which are to be hung horizontally across the ceiling
Properties of Acoustic baffles
Light weight: The baffles are of a light weight and easy to hang from the ceiling. They do not require a study suspension beam. They have grommets to help with the installation.
Thermal resistance: The baffles have thermal resistance and are not affected by high temperature. They can safely be placed near intense lighting without affecting the sound absorptions capabilities.
Fire retardant: The baffles are made of fire resistant material and have a fire rating of Class 1.
Absorption rating: The baffles have a noise reduction coefficient of .90 to 1.10 sound absorption rating.
Colour: The acoustical baffles are designed for aesthetic appeal and are available in a variety of colours and designs.
Safe Material: The acoustic baffles are made of safe materials and free of natural mineral fibre and synthetic material.
Covering: The ripstop nylon fibre used to cover baffles provides good sound insulation and is extremely durable.
Finish: The baffles have a choice of material for the finish which are Sailcloth, Whispertex, Guilford, Tekwall and Webcore.
All our acoustic baffles have a glass fibre core and a fabric finish. The thickness of the panel could vary depending on requirement between 1" or 2". They provide excellent
acoustic treatment
and sound attenuation and are suitable for temporary set-ups as well.
Fabric wrapped Acoustic Baffles
Acoustic Baffles
are used to absorb sound and create a peaceful environment. They reduce the reverberation and echo in a room. The baffles are covered in a fabric which could be sued or sailcloth or some other whish has an aesthetically pleasing appearance.
The
fabric wrapped acoustic baffles
are very durable and have a high sound absorption capability. They are categorised with a Class 1 fire rating and have a noise reduction coefficient between .80 and 1.05.
Fabric wrapped acoustic baffles are a good option for large halls and auditoriums. They are aesthetically pleasing while providing an
acoustic treatment
. It helps to moderate the acoustic of the room.
NRC CHART

PANEL TYPE

THICKNESS INCHES)

FINISH

CORE

ABSORPTION (SABINS PER 48" × 24" UNIT)

125Hz

250Hz

500Hz

1000Hz

2000Hz

4000Hz

SABINS

TYPE 1

1"

FABRIC

GLASS FIBER

4.55

6.20

8.42

12.83

14.35

14.28

10.45

TYPE 2

2"

FABRIC

GLASS FIBER

4.48

8.00

13.20

17.93

16.98

16.35

14.02



Decorative Fabric wrapped Acoustic Baffles
The Decorative fabric wrapped Acoustic Baffles are designed for commercial spaces where the aesthetics matter. These baffles absorb sound and give a very high performance while adding to the décor. They are custom engineered to suit the area of use. These baffles can be acquired in a number of colours and different fabric designs. The
decorative fabric wrapped acoustic baffles
are fire retardant.
Used for noise mitigation the
acoustic baffles
wrapped in a decorated fabric are the preferred option for theatres, auditoriums and function halls. Baffles provide the perfect solution for
sound attenuation
. It moderates the quality of sound in the room and prevents the hollow or echo sound from emanating. The acoustic baffles have grommets which can be used to suspend them from. We can customise the acoustic baffles and make the design as per the requirement for the area of usage.
POLYWRAP ACOUSTIC BAFFLE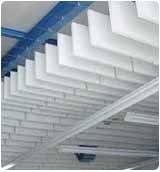 The Polywrap Acoustic Baffles are an economical solution to control sound and noise reverberation for without affecting the quality of performance. It has a fibre glass core and is covered with ESPL polywrap. The heat sealed polythene bag reflects light. These baffles are used to absorb sound that is reflected from hard surfaces such as the floor, walls or ceiling. They are usually suspended from the ceiling through the grommets provided.
Properties
Colors: Off White (fiberglass core gives it a yellowish appearence), Black
Facing: light reflective, heat-sealed polyehtylene bag
Size: 1-1/2" thick, 2' x 4'
Weight: 1.6 pounds per cubic foot (approximately 2 pounds per baffle)
Fire rating: Class A
Two grommets are provided along the 4 feet sides for horizontal hanging. On request we can provide grommets along the 2 feet side for vertical suspension.